Festivities This Holiday Season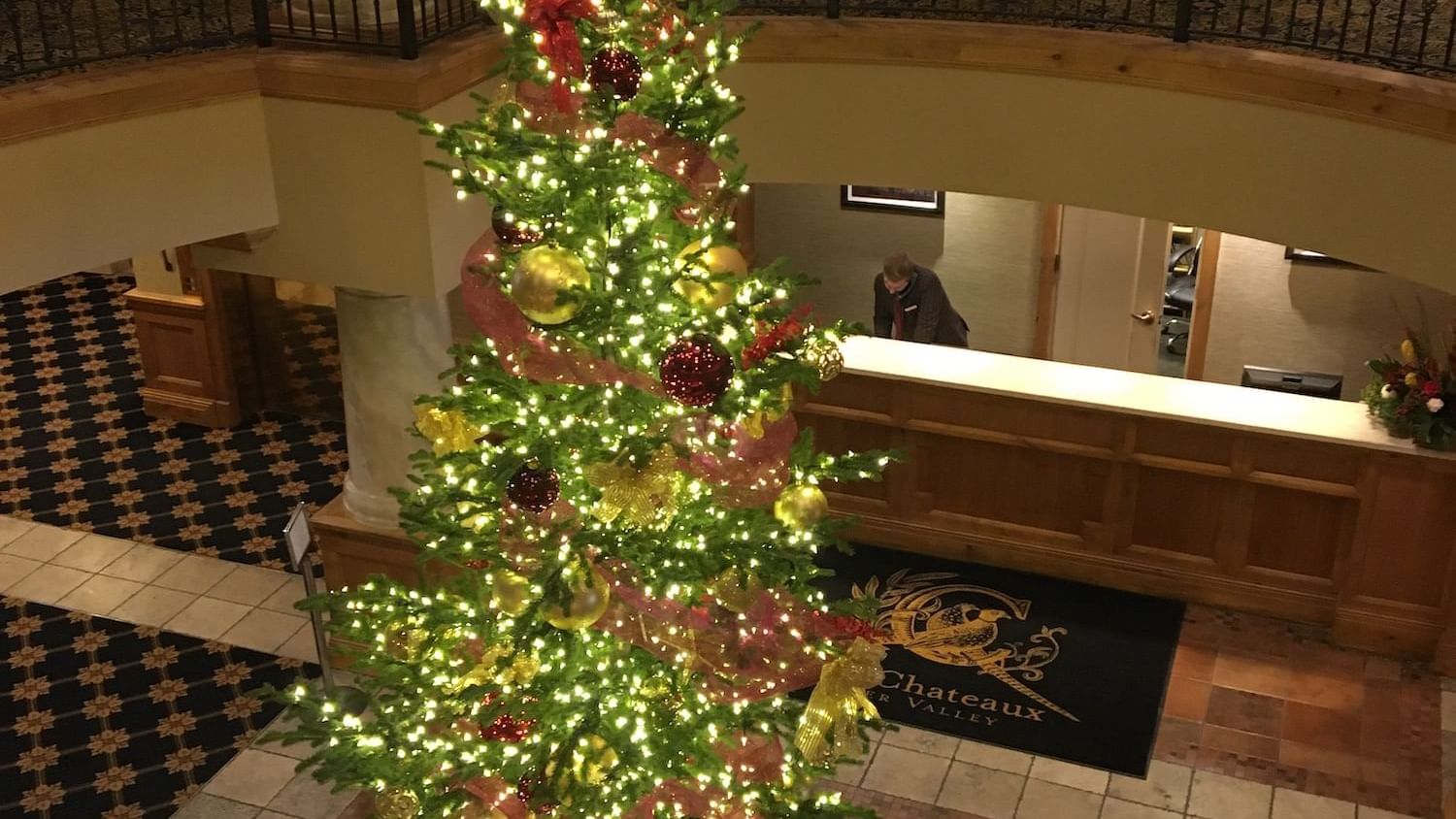 There's no place like Deer Valley for the holidays! The captivating warmth and wonder of this festive time of year is felt in every moment. Park City is a true "Hallmark" mountain town and lends itself perfectly to a wintry holiday wonderland. As the soft, white snow falls and blankets the mountain peaks and surrounding community, the magic of the season is enhanced with the merriment of guests and locals bustling along Historic Main Street looking for those one-of-a-kind gifts for their loved ones. Every detail is reminiscent of seasonal splendor, from glimmering lights to nostalgic aromas - nothing compares to the holiday joy found in Park City this time of the year.
For all our wonderful guests, the spectacular Christmas tree is up and adorned with soft glowing lights and cheerful, bright ornaments sitting in the middle of the arrival lobby and ready to greet all who enter.
And for our in-house guests, be sure to ask our Front Desk or Concierge team members about the following activities and plan them as part of your itinerary:
Snowman Making Kits
Our Concierge team will provide you with all the snowman making mold and all the accessories you need to build a snowman at the Lodge. We suggest either the Courtyard area or the ski-in area just off the Mountain Lodge back deck. Both are ideal locations for some snowy fun.
S'mores at the Fire Pit
Bundle up and roast a "mallow" fireside in the open courtyard. It's even more fun and magical at dusk or when the sun has set. S'mores kits can be picked up at the Concierge desk or front desk. Be sure to ask for a board game while you are there. Then return back to your room for hot chocolate and family fun with a board game favorite while a classic holiday movie plays in the background. Making memories could not be easier at The Chateaux this season.
Soak It Up
After a day on the pristine Deer Valley slopes, soak in the hot tub and heated outdoor pool before you go to dinner. And may we suggest you make a dining reservation at Cena Ristorante or Cena Lounge? Open to all guests and with the new seasonally-inspired winter menus, you are sure to be impressed and satiated with the house made Italian cuisine. Whether you are craving an authentic pasta dish, a lighter flatbread pizza, or the hearty Cena burger - we are ready to serve all your hunger needs. Pair your dish with a craft cocktail, a locally brewed ale, or select from our diverse wine menu - our sommelier loves to share his drink favorites and pairing recommendations. And, for our lodging guests, a family-style breakfast for two is included with each night of your stay!
Nightlife & Main Street
And if you are looking for a little nightlife action, take the complimentary shuttle down to Historic Main Street in Old Town Park City. During the holidays, the city strings lights across Main Street for some added and vibrant cheer. Stores are busy and there are ample dining options all along Main Street. Ask our Concierge for recommendations or to help with making reservations. (435) 658-9518
For additional information on any of the activities for our lodging guests, please call our Concierge desk. (435) 658-9518
This holiday season, let us roll out the red carpet for you and let's make this one of the most merry and memorable holiday seasons yet! We look forward to seeing you and we wish you a very merry season.