Learn About The National Ability Center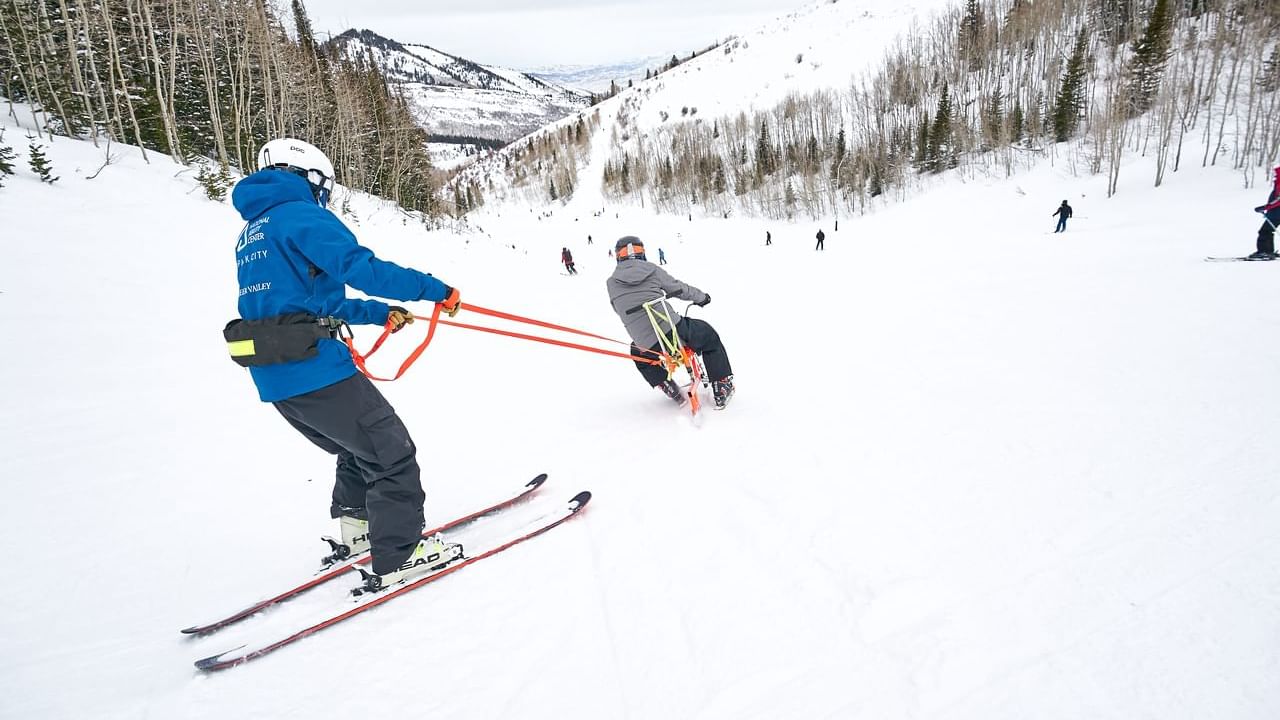 Through more than a dozen adaptive recreational and educational programs offered year-round, the National Ability Center (NAC) team fosters the development of crucial lifelong skills for every participant, all the while also empowering participants to increase their self-esteem, confidence, and physical fitness. From Paralympic gold medalists to those seeking to spend quality time with family and friends or even solo excursions, the NAC offers a safe environment for anyone and everyone who is looking to challenge themselves in the great outdoors. Headquartered in Park City, but with additional basecamps in Salt Lake City and Moab, the NAC makes a huge impact on the lives and individuals and makes recreation and outdoor adventures accessible to all.
PROGRAM OFFERINGS:
This season, the NAC is offering activities where family and friends of those with a "can do" attitude are encouraged to participate. Members of the Armed Forces and Veterans from every era are invited to participate in any program (most of them at no cost to the service member). A number of ongoing Nordic skiing, fat biking, and indoor climbing sessions are available throughout the winter season. Below are the programs offered by NAC:
Adaptive Recreation: alpine skiing, snowboarding, snowshoeing, indoor climbing, cycling, archery, paddle sports, water sports, challenge courses, and more
Outdoor Adventures: Nordic skiing, fat biking, snowshoeing, mountain biking, rafting, outdoor climbing, camping, and more
Military Programs: from individual activities to multi-day retreats for groups
Camps: day camps and overnight camps for kids, young adults, and families
Equestrian: adaptive horseback riding, trail riding, hippotherapy, and equine-assisted learning
Community Outreach: a core part of the NAC's mission involves ongoing community outreach and support

UPCOMING WINTER EVENTS:
1/27-1/29/21: 32nd Annual Huntsman Cup World Para Alpine Ski Races (WPAS)
The Huntsman cup focuses on providing the opportunity to adaptive athletes who are hopefuls for future Paralympic games in 2022 and beyond. This Alpine ski racing event is geared toward athletes focused on building technical skills in racing and lowering their points to qualify for more upper level competition.
3/4-3/6/21: Red, White & Snow Fundraiser
This annual three-day celebration benefits the National Ability Center, allowing the organization to continue offering low-cost or no-cost activities in the community. The Red, White & Snow event features wineries and top chefs from across the nation. Donors, sponsors, and guests are offered a unique opportunity to blend Park City's passions through a creative menu of weekend events, including wine tastings, private vintner dinners, ski days at local resorts, live and silent auctions, and a black tie gala dinner. Due to some of the COVID-19 restrictions, this year's event will have some slight adjustments, but allowing for even greater participation worldwide. Most of the events will be virtual this year, including the following:
3/4/21 Virtual Wine Tasting
3/5/21 Virtual Vitner Dinners
3/6/21 Virtual Gala Auction

LEARN MORE:
To learn more about how you can participate with the National Ability Center, visit their website and explore their activities and programs. For locals, we encourage you to inquire about volunteer opportunities or donation options. We are incredibly lucky to have such an amazing nonprofit organization in this beautiful mountain town.