Alex Lyman at The Chateaux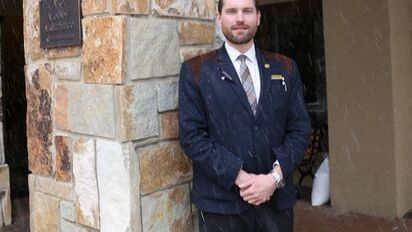 After a busy holiday season, we like to take a moment to recognize some of our incredible staff here at The Chateaux Deer Valley who work hard to provide each guest with an excellent experience. This month we're acknowledging Alex Lyman, our dedicated bell captain.

Alex has lived in Park City for 25 years. He moved here from Whitefish, Montana, completed high school here in town, then lived in New York City for a few years pursuing music production and sound design, something he still enjoys today. Upon returning to Park City from New York, Alex took a position at the Park City Peaks Hotel as a bell captain and bellman. It was there that he fell in love with hospitality and decided to continue to pursue his career in the industry.

When asked about his favorite aspects of his job, the answer was easy for Alex. "I love interacting with all the guests. It's a lot of fun. I love the team here and at Stein's too - it's an amazing team and that makes it fun."

The best time of year to be on the bell staff, according to Alex, is throughout the entire winter. The hotel is busier and the season allows him to participate in one of his favorite activities, snowboarding. When Alex isn't interacting with guests here on property, he is spending his free time on the slopes at either Park City Mountain Resort here in town or at Brighton Resort in Big Cottonwood Canyon.

The job of a bellman is varied and fast-paced. Alex and his team handle everything from valeting guest's cars, carrying luggage, transporting guests, and answering questions all while providing the best customer experience possible. Alex and his team take pride in this varied work. "With my position particularly, moving around, shuttles, there's always plenty to do and it keeps it interesting."

The next time you stay with us here at The Chateaux, be sure to say hello to Alex. He is a wonderful addition to our team and we continue to be grateful for his strong work ethic and approachable personality every day.