Intermountain FIS 2021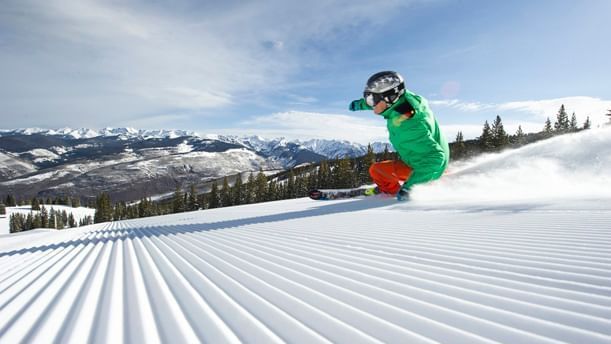 One of the most exciting events consistently hosted at Deer Valley Resort is the Intermountain Healthcare Freestyle Internation Ski World Cup where the world's best skiers come to compete in events such as moguls, dual moguls, and aerials, the results of this competition often have a large impact on Olympic standings and other events.
Skiing is a sport that is ingrained in so much of what The Chateaux is all about. Many guests visit our property with the sole intent of experiencing 'The Greatest Snow on Earth!' and the immediate access to the slopes makes our hotel the ideal place for them to visit. To share such close space with events such as The FIS World Cup is special for both lifelong, experienced skiers, as well as those who are newer or perhaps just starting to learn the sport. Seeing the best athletes in the world fly through the air or cruise down the hill is exciting for any audience.
This will be the 23rd year running that Deer Valley Resort has hosted the competition, adding to the long list of impressive competitions held at the resort, including the 2002 Olympics, 17 World Cups, and 2 World Championships.
Typically, this event welcomes thousands of spectators to experience the energy and talent that these athletes bring but to prevent any large gatherings and encourage social distancing, the events will not be open to spectators this year. Instead, the events can be streamed or viewed via NBC properties. While we feel a bit disappointed to miss the excitement of watching these events live, we feel lucky to have the opportunity to view the televised events from the safety of The Chateaux.
The events begin on Thursday, February 6th, with the Moguls competition, followed by Dual Moguls on Friday, February 5th, and Aerials on Saturday, February 6th. Event times vary, the television schedule for each individual event can be found here.
Guests staying at The Chateaux Deer Valley can appreciate a weekend skiing on the same slopes as so many of these incredible athletes and catch the televised events over a pizza and a pint at Cena Ristorante or cozy up in the comfort of their rooms with a warm fire and room service to take in the events.