Recipe: Grilled New York Steak & Panzanella Salad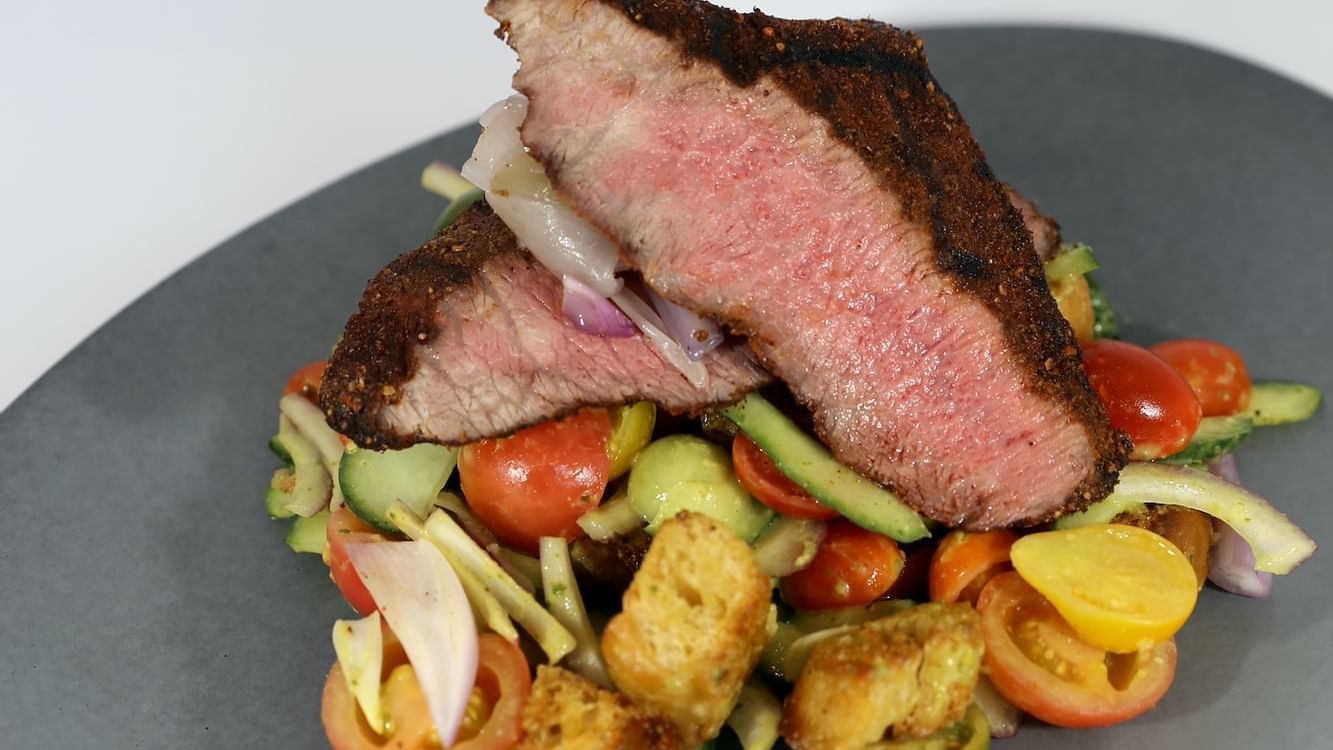 Nothing says summer quite like fresh, crispy salads and savory grilled steak. We love the Grilled New York Steak & Panzanella Salad so much that we had to ask Executive Chef Chris Wellmon for the recipe. Chef Wellmon was more than happy to share some tips on how you can recreate this masterpiece at home. Try this dish today and let us know what you think!
Panzanella Salad
One cup of focaccia bread (Ciabatta or a French baguette is a great substitute) cut into ½ inch cubes and toasted in the oven until golden brown.
½ cup of small diced red onions.
½ cup of small diced red bell peppers.
One cup of medium diced tomatoes.
One cup of medium diced cucumbers.
Basil Dijon Vinaigrette
One cup of fresh basil leaves.
One tablespoon of small diced shallot.
One teaspoon of diced garlic.
One tablespoon of dijon mustard.
Two tablespoons of white balsamic vinegar (white wine vinegar or champagne vinegar make a good substitute).
¼ cup of extra virgin olive oil.
Salt and pepper to taste.
Combine all of the ingredients apart from olive oil into a blender. Blend on medium speed until smooth. Slowly drizzle the olive oil into the dressing with the blender on before seasoning with salt and pepper.
Black Pepper Steak Rub
¼ cup of fresh ground black pepper.
One tablespoon of granulated garlic.
One tablespoon of onion powder.
One tablespoon of dried rosemary.
One tablespoon of rosemary powder.
Combine ingredients, whisk until thoroughly blended.
Toss the vinaigrette with the focaccia croutons and vegetables. Use a spoon to mix ingredients until all the vegetables are evenly coated with the vinaigrette.
Season your New York steak with salt and a generous amount of black pepper rub on both sides of the steak. Grill the steak to your desired temperature.
While the steak rests, plate the salad and season to taste with the remaining black pepper rub.
Cut steak into smaller pieces and serve it on top of the salad.
Keep in mind this dish can serve up to four!
This dish is currently on the Cena dining menu, and we highly recommend you check it out for yourself! If you are looking for the perfect foodie getaway, our Dine & Stay package is still on offer and is the perfect option for anyone looking for an excuse to head to Park City.