Meet the Sommeliers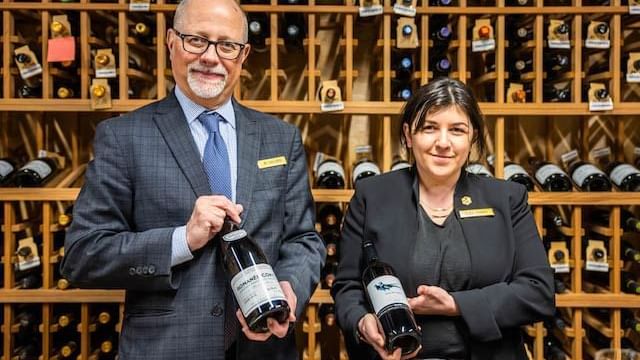 With an impressive 20,000 or so bottles and over 2,000 selections worth over $2.6 million, the wine cellar at Stein Eriksen Lodge offers guests a unique experience and access to some of the finest wines from around the world.​ Held at a constant temperature of 55 degrees Fahrenheit and 60 percent humidity, the wine cellar features floor-to-ceiling redwood racks and a separate tasting room accommodating up to 10 guests for a private wine tasting in Park City.
The value does not end with such an impressive selection. Instead, we are proud to proclaim that the two knowledgeable, professional Sommeliers working in-house are the most valuable part of the wine experience at Stein Collection.
Jim Dahlgren
Jim originally moved to Park City after college in the fall of 1985 to spend a winter season learning to ski. He fell in love with the Utah mountains and the perfect Park City climate. Jim is an avid snowboarder and mountain biker. After obtaining a job at Stein Eriksen Lodge, he developed a passion for fine food. Over many years, this passion for food merged with a passion for wine. After assuming many roles at the Lodge, Jim eventually became involved in the wine program. He became a certified sommelier in May of 2012 and became the sommelier at Stein's shortly after. When purchasing wine for the Lodge, his goal is always to have a representation of all the best winemakers in the world, featuring wines from every major wine-producing region at all price points, something for everyone.
Eliza Perkins
Eliza grew up in Park City, and despite leaving several times, she always returns, as it is unmatched in a place to live and work in many ways. Eliza lives down the road in Salt Lake and enjoys gardening, spending time outdoors with her dog, and frequenting local restaurants & bars. Eliza's background is in bartending, where she became interested in all things beverage: wine, beer, cocktails, and spirits. After some time in fine dining restaurants, a passion for food and wine pairings sparked, and she pursued wine education. Eliza passed the introduction course to the Court of Master Sommeliers in 2016, followed by certifications in the Wine Spirit Education Trust & United States Bartenders Guild. Eliza became a sommelier at Stein's in January of 2023. She is excited to work with the vast cellar selection and the amazing wine list. Her favorite parts of being a sommelier at Stein's are introducing people to something they would never have tried, curating a perfect food and wine pairing, and educating team members. Eliza is currently pursuing the Advanced level in WSET and the Certified level in CMS.
Private wine seminars and tastings may be scheduled for up to 10 guests and are led by one of our certified sommeliers. We offer hour-long blind tastings with an advance reservation only and during select times. We are limited to parties of 10 adults or less. You must be 21 to participate in the wine cellar or tasting room.
Don't hesitate to contact our host stand at (435) 645-6455 to inquire or make a reservation.